Piggly Wiggly #269 - River Run
3800 River Run Dr.
Mountain Brook, AL 35243
Phone: 205-776 -8755
Fax: 205-776 -8754
Store Hours
Mon-Wed: 6:00 am - 9:00 pm
Thurs-Sat: 6:00 am - 10:00 pm
Sun: 7:00 am - 9:00 pm
Complimentary Wine Tasting: Thursdays, 4:00 pm - 6:00 pm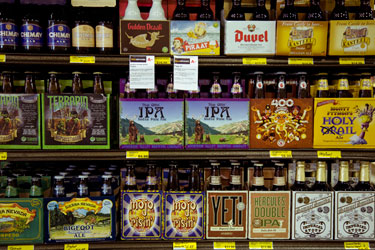 At our River Run store, we have always had an impressive gourmet beer selection and we were among the very first to carry these high gravity beers when "Free The Hops" passed. The Piggly Wiggly stores continue to have some of the best gourmet & craft beer selections in Birmingham. If it is a unique taste and high quality you desire, please stop by our store and try one of these fantastic selections:
Chimay Belgian Trappist Beers (Blue, Red & White), Delirium Tremens, Ommegang Belgian Beers, Carlsberg Elephant, Abita Brewers incl. Jockamo IPA, Anderson Valley Hop Ottin IPA, Naked Pig Ale (local), Saranac IPA, North Coast Brewing Company (Pranqster, Old Rasputin and more), Duvel Belgian Triple, Left Hand 400 Pound Monkey, Sierra Nevada Torpedo, Flying Dog, Spaten Optimator, Terrapin Line incl. Terrapin Hopsecutioner, Magic Hat of Burlington Vt., Great Divide, Holy Mackerel, Sam Adams (Imperial Stout, Double Bock & Belgian White), Bell's Brewery incl. Two Hearted Ale - Highest Rated IPA in the U.S.
We carry many, many more gourmet & specialty craft beers, some of which may be seasonal or limited batch productions. Come into one of our stores today to see whats new and exciting!